Help raise awareness of the 1.2bn people living in poverty and join ChildHope to Live Below the Line.
In India living below the poverty line is a daily reality for millions of children. In fact, you'll find 1 in 3 of the worlds malnourished children here.
The daily reality of watching your child grow thinner was all too familiar for mother Shakila. In a remote area of West Bengal, Shakila's 18 month old daughter, Ayesha, was severely underweight with acute malnutrition.
Like many mothers in this area of India, Shakila didn't have access to washing or toilet facilities, and she did not know how hand washing could prevent the diarrhoea that was making Ayesha so sick. She did not know about the foods that might help Ayesha grow stronger. Shakila loved her daughter but felt helpless as she saw Ayesha lose weight and become more listless every day.
There was hope for Ayesha thanks to ChildHope partner CINI. CINI's community workers referred Ayesha to a nutrition rehabilitation centre. After a 2 week stay at the centre and follow up visits Ayesha successfully gained weight. Now, Shakila has learned how to feed and care for Ayesha and can look forward to a brighter future for her daughter.
"I am now feeding my child with confidence and she is growing well' 
Shakila, Ayesha's mother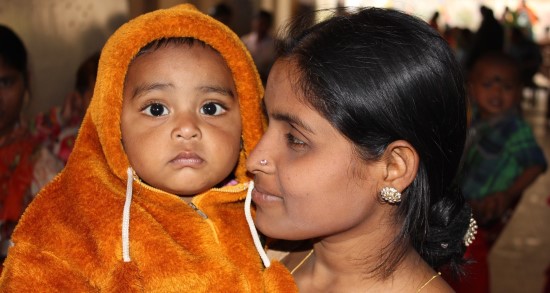 Health centres gave Shakila's daughter a better start in life but there are thousands more vulnerable children who need your help today.
By raising just £120 living below the line, you could give 20 severely malnourished children the food and medicine they need. Help a child like Ayesha today, and join ChildHope to Live Below the Line.
Thank you.